Ultratherm J-grade (heat shield/heat insulation paint)
Ceramic water-based insulation paint
Considering the global environment, energy saving, and CO2 reduction, Ultra therm
J-Grade boasts a track record as a heat insulating paint in various countries around the world.
Characteristics| Thermal insulation principle・Function data |Film performance|Coating specification|Product specification|Measurement data after construction|Construction example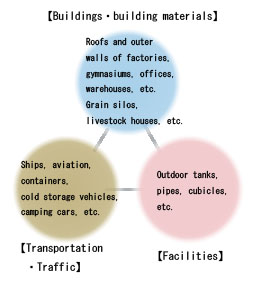 Super therm J-grade is further upgraded by making use of many years of experience and construction experience! Reborn as "Ultra therm J-grade".
By making the ceramic powder finer than Super therm, the unevenness of the coating film surface was suppressed to the utmost, dirt was not easily attached, and the aesthetics of the construction surface was also taken into consideration. In addition, the top coating has not only a heat shield effect but also consideration for health, and it has the safety according to F☆☆☆☆ (F Four star), and it can respond to the needs of the times and protect the global environment. A quick drying acrylic latex with low VOC elastic thermal insulation/heat shield paint.
For the effect, please refer to the Environmental Technology Demonstration Project ETV Ministry of the Environment Heat Island Countermeasures Technology Field Demonstration No. 051-1055(Click here for the verification result PDF).
Its excellent characteristics will greatly contribute to your company's environmental improvement and energy saving measures, and also as a means to acquire the international environmental standard ISO14000.
Ministry of Economy, Trade and Industry established on July 20, 2011, public notice JIS K5675 (high solar reflectance paint for roof) Pass / non-combustible material test Pass the test according to ISO 5660 P-1
The trump card of energy saving and CO2 (carbon dioxide) reduction, its effect is tremendous.
Ultra therm J-Grade is a heat-insulating paint that considers global environment and energy saving.
The heat shielding and heat insulating effect can be realized just by applying it.
However, the important point to maximize the capacity of Ultra therm J-grade is the construction technology.
Our company responds to customer's requests with the know-how cultivated over many years in order to bring out the effect suitable for each field survey and each purpose.
We consider Ultra therm J-grade to be an effective product for cost saving and global environmental protection.
Calculation for energy and CO2 reduction of Ultra therm J-Grade
"Ultra therm J-grade" reduces CO2 and greatly suppresses heat entering from the roof.
Metal roof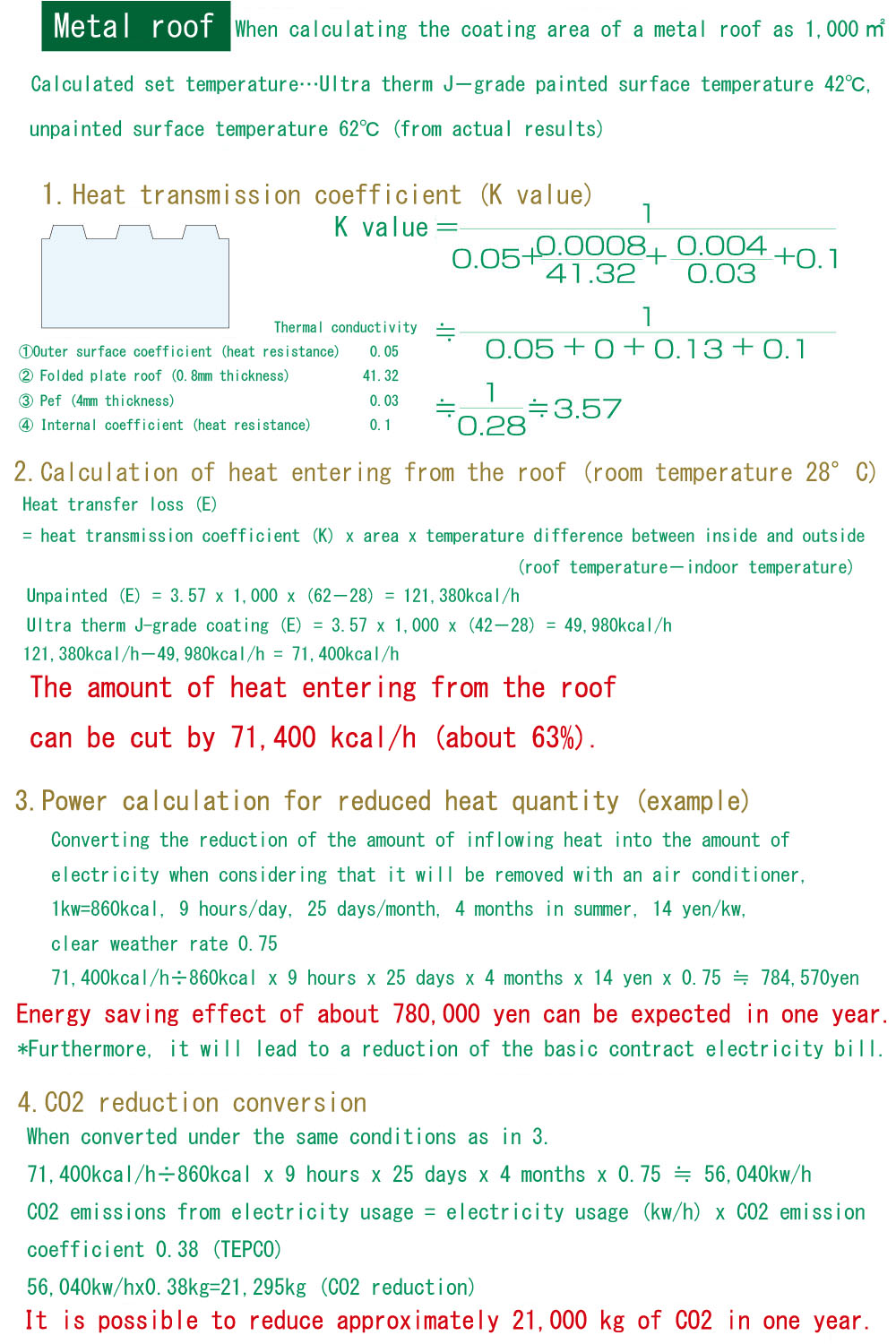 Slate roof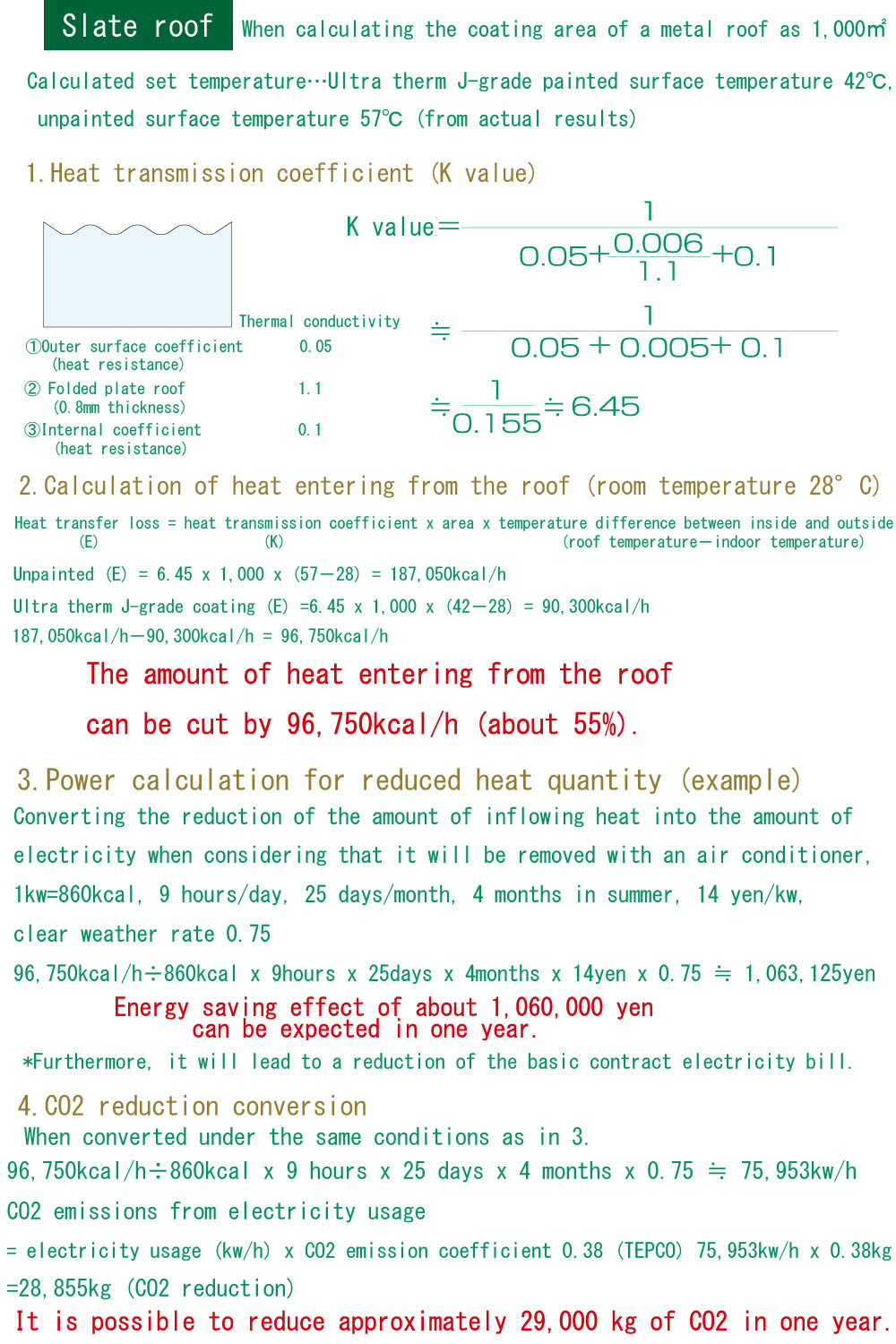 Category list
Cosmetics and quasi-drugs Raw material | Food Raw material | Chemical products and Function material | Electronic materials and Secondary battery | Synthetic resin and Additive |Lubricating oil and Fuel oil and Wax | Functional paint and Additive | Equipment and Machine | Materials for pharmaceuticals and medical equipment | Electronics Device | Packaging materials
商品一覧
ネツゾール(耐熱塗料)| Ultratherm J-grade (heat shield/heat insulation paint) | 重防食塗料<船舶用> | 重防食塗料<陸上用> | NBコートニューアロマエースHS