Chemicals Devision
From raw materials to the final product: Okura Chem-Tech provides leading-edge solutions designed to match the needs of our customers.

From organic and inorganic industrial chemicals to oils, surfactants, Quasi drug, cosmetics materials, biotechnology and electronic materials, the Chemicals Division offers a sweeping array of products that cater to a multitude of needs. We not only strive to quickly supply the raw materials that customers need but also propose various activities based on information obtained from our special network supported by long-nurtured relationships and accumulated know-how.
Message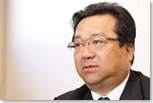 Important themes today are ecology and environmental conservation. To address the constantly changing needs of the world by developing and proposing innovative materials through bold and innovative ideas, the functions of both a trading company and a manufacturer are required. We are constantly aiming to make the next significant leap forward to ensure that our efforts make people's lives more and more comfortable.
Chemical division General manager
Tamotsu Yaegaki